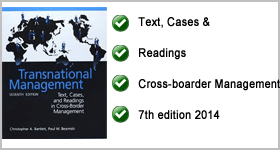 Context:
The meaning of transnational differs from the meaning of similar expressions as multinational, international or global and expresses furhermore the challenges, managers are faced whith in handling operations, that extend across national boundaries. Today´s cross-boarder business requires the management of fast-changing forces to disrupt people working in traditional functional silos.
Content:
The book Transnational Management written by Bartlett/Beamish has been published as seventh edition 2014. The topic has been structured over eight chapters, whereby three main topics are leading: The Strategic Imperatives, The Organizational Challenge and The Managerial Implications. After a short introduction about the topic, chapter one focuses on Motivations, Means and Mentalities to expand buisiness abroad. Chapter two focuses on the Understanding of the International Context, when chapter three is about Developing Transnational Strategies. All chapters contain different cases, that underline the issue and provide readings for the further understanding. Nex chapters are about Developing a Transnational Oranization (four), Creating Worldwide Innovation and Learning (five) and Enganging in Cross-Boarder Collaboration (six). Topics as matrix structures, effective R&D or how to manage alliances or joint ventures are only some examples highlighted within this overall organisational topic. Chapters seven and eight concentrate on aspects how to implement strategies and future transnational management issues.
Recommendation:
The book Transnational Management by Bartlett/Beamish provides plenty of cases with charts and tables and assures the strong real business relation. Current developments and links to further information complete the information provided.
Transnational Management
Bartlett, Beamish
Softcover, 710 pages
7th edition, published 2014 by McGraw-Hill Education
ISBN: 978-1-259-25376-8